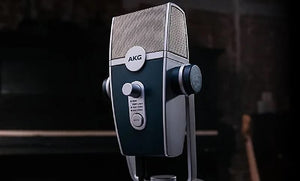 AKG Lyra Multipattern USB Condenser Microphone
The Lyra USB microphone from AKG is the perfect way to get your podcast
or streaming career off the ground. You'll capture crystalline vocals
with 4K compatible 24-bit/192kHz audio resolution. The Lyra carries a
4-capsule mic array that allows you to record with four incredibly
useful polar patterns. Thanks to the USB connection, users of all skill
levels can record straight into their computer with no external mixer or
interface required! While you're working, you can use the Lyra's 3.5mm
headphone jack to monitor your levels in real-time and toggle the
momentary mute switch to prevent unwanted interruptions.

Behind
the grille, the Lyra houses a 4-capsule mic array. These mics capture
great audio and provide stellar coverage with four selectable polar
patterns. Sitting in front of the mic? No problem. Have a friend with
you on the other side of the mic? The Lyra's got you covered. To help
you record without a hitch, use the microphone gain control on the back
of the Lyra's body to tone down loud sounds and provide an extra boost
if you're whispering.