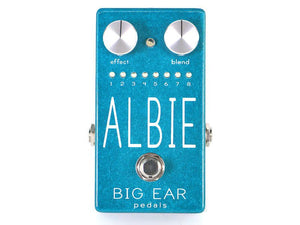 Big Ear Pedals Albie Ambient Modulator *Free Shipping in the USA*
Product Inf


ALBIE is an ambient modulator featuring eight settings specifically built and curated to cover the jangly, shimmering, modulated sounds associated with the New Wave & Post Punk music of the '70s & '80s.

ALBIE has two knobs, "Effect" and "Blend." The "Effect" knob allows the user to change between eight different pedal-chains or "stacks" of effects (the LEDs light up with the corresponding effect). These effects chains consist of several kinds of modulation as well as reverbs and delays, even some compression. The "Blend" knob mixes the chosen effect setting into the clean-tone of the guitar, making this pedal especially perfect for those with option-paralysis.

The clicking momentary footswitch operates like a standard footswitch, but when held down provides a secondary setting for each effects chain. These extra settings are called the "Neil Modes"—named after Neil Graham of Dr. Scientist who programmed the digital code for ALBIE, as well as designed these secondary settings. These modes can also be accessed with latching functionality, meaning they will stay on even after lifting your foot off of the footswitch!



ALBIE does not contain a battery snap and requires a 9v (111ma minimum) power supply with a 2.1mm barrel connector (negative center).



*This pedal DOES NOT come with a power adapter. We recommend using an isolated DC power supply.
Warranty & Final Sale Policy

All BIG EAR pedals are assembled by hand in the USA. Pedals within the USA are covered under a Limited Lifetime Warranty against defects in workmanship (for as long as we are in business). All sales are final!
Current Lead Time:

As stated above, we are currently building and shipping batch three. Expect to see an email with a tracking number approx. 5-6 weeks from the date of purchase. Should that change, we'll be in touch via email.



Thank you so much for all of your support!