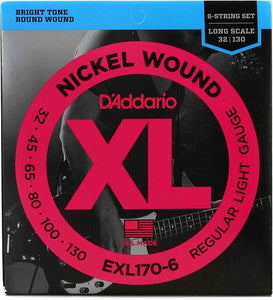 D'Addario 6 String Bass Strings 32-130 EXL170-6
Gauges 32-45-65-80-100-130.

D'Addario EXL170-6 XL Long 6-String
Bass Strings are wound with nickel-plated steel, known for its
distinctive bright tone, excellent intonation and reduced fret wear.
World-renowned as "The Player's Choice" among bass players of all genres
and styles.
Buyer pays $4.99 shipping in the USA!