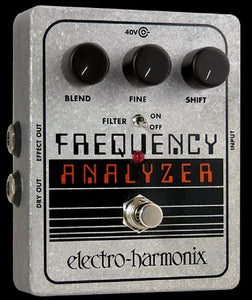 Electro-Harmonix FrEQuency Analyzer Ring Modulator *Free Shipping in the USA*
Adds moving harmonies to the note or chords being played. Unlike other
Ring Modulators, the Frequency Analyzer has controllable high order
filters that reduce cross distortions and enhance the variations. The
course and fine control let the user set a single frequency that will
then be both added and subtracted from the original note or chord. Blend
control lets you mix the new notes with the original. This is a must
have pedal, especially for techno cats. Devo had their biggest hit using
the Frequency Analyzer.
We offer Free Shipping in the USA!