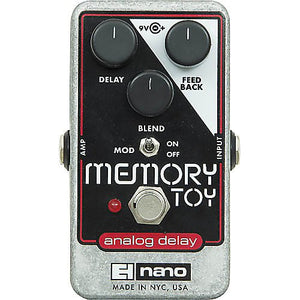 Electro Harmonix Memory Toy *Free Shipping in the USA*
The Memory Toy presents a pure analog delay for musicians who covet
thick sound from a thin wallet. EH melds heritage with select components
to present the musician with up to 550ms of delay. Not a toy but a
professional tool that bathes your axe with organic depth and dimension.
The selectable chorus is a lush bonus. No one does analog like EH!
This pedal is brand new & we offer Free Shipping in the USA!