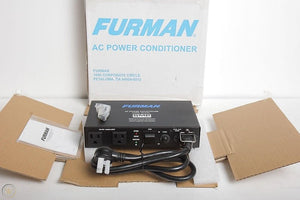 Furman AC-215a Compact Power Conditioner
Affordable protection! You can trust Furman's AC-215A to keep your
gear safe from dangerous voltage. This reasonably priced 2-outlet power
conditioner offers up the best of Furman's protective technologies in a
compact, low-profile design. Need to bring protection over to your
guitar amp? Have gear on the other side of the room that needs power,
but you want the strip to be discreet? Here you go. So, how exactly does
it work? The AC-215A features Series Multi-Stage Protection (SMP) for
serious surge suppression from voltage spikes, meaning the dangerous
spikes are absorbed, clamped, and dissipated, without the unit
sacrificing itself in the process. There's a lot more built into the
AC-215A, though.
If your gear goes unprotected,
you risk frying your hard-earned investments in the event of one
dangerous overvoltage. With the AC-215A between the wall and your rack
or rig, though, the built-in Extreme Voltage Shutdown feature will shut
off the incoming power until the incoming voltage is safe for your gear.
More than that, Furman even added their Linear Filtering Technology
(LiFT) which purifies your AC power, keeping AC noise at bay — that's a
must for the serious studio or performing rig.
If you're
currently relying on plastic power strips, the AC-215A is the perfect
way to protect your gear without spending a fortune. With the AC-215A
plugged into the wall, you can still use your existing power system,
knowing that you've got clean power and protection from damage between
you and the power source. At this low price, the AC-215A is a must.
Furman AC-215A 2-outlet Power Conditioner Features at a Glance:
10-amp Power conditioner with two outlets

Low-profile design for discreet placement

Series Multi-Stage Protection Plus protects you from voltage spikes

Extreme Voltage Shutdown shuts off dangerous incoming voltages

Linear Filtering Technology (LiFT) purifies power and keeps AC noise at bay

Includes mounting brackets for installation on a flat-screen television mount