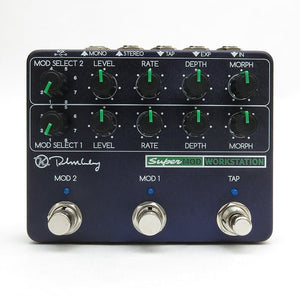 Keeley Super Mod Workstation *Free Shipping in the USA*
Sonically drench yourself in swirling modulated tones.  Not many
effects can be as provocative as a chopping tremolo, a swirling rotary, a
dreamy chorus, or a crazed filter sound.  Nothing compares 2 a thick
flanger or deep harmonic tremolo.  Nothing goes better with modulation
than delay and reverb.  With the Super Mod Workstation you can combine 2
effects together to create a nearly endless soundscape of tones.  Add
tap tempo and an expression pedal and you have all the tools at your
disposal to create a mesmerizing array of sounds.
The Super Mod Workstation contains many of Keeley's finest effects.
 The Harmonic Tremolo in this unit is inspired by vintage brown face
amps.  The Keeley DynaTrem contained our first Harmonic Tremolo.  Many
consider this deeper and thicker sounding than the U Vibe type effect.
 The ADT in the Super Mod Workstation is from the 30ms Automatic Double
Tracker.  Last year that effect set the effect world on fire with the
best complete ADT unit in a stomp box.