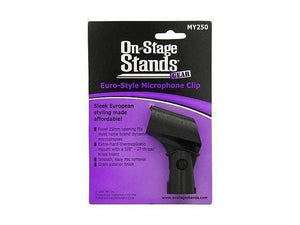 On-Stage MY250 Euro-Style Plasic Mic Clip
Sleek European-style, hard plastic. This break-resistant, swivel adapter
features a soft cradle for models 849, SM48, SM57, SM58, SM87A, SM94,
Beta 57A, Beta 87, 515X, 545, 565, 588SDX, and BG1.1, 2.1, 3.1, 4.1 and
5.1.

Founded on a promise of affordability, durability and
innovation, On-Stage Stands products are used everyday in studios,
showrooms, and on stages everywhere. Today, professionals and amateurs
all over the world put their trust in On-Stage Stands.