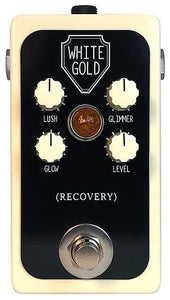 Recovery Effects White Gold (Choral Synthesizer) *Free Shipping in the US*
WHITE GOLD

(Choral Synthesizer)

White Gold creates densely lush harmonized textures, synthesized pads, and shimmering ensembles. Use it on any instrument, drum machine, synth, or vocal. Effortless at any setting, it's designed to resonate, glisten, and always stay musical.

White Gold easily makes a single instrument track resonate and sparkle with beautiful complexity. It is the perfect tool for adding lush, intricate, synth-like layers to any arrangement.

Controls:

Lush is the primary color, adding rich, modulated texture to the original source.
Glimmer blends a shimmering octave up.
Glow adds sparkling 5ths.
Level controls the overall blend.

Enclosure size: 4.77" x 2.6" x 1.39"