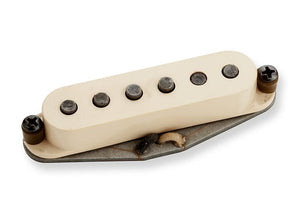 Seymour Duncan Antiquity II for Strat Surfer RW/RP (Middle) 11024-10 Electric Guitar Pickup
Take your Stratocaster on a ride through decades of seminal genre
defining tones from rock, surf, country and blues with the Antiquity II
Surfer vintage Stratocaster pickups.

The middle pickup in the set is RW/RP for the perfect hum-free cluck
in the 2 and 4 positions. We wind these 50% hotter for more mids, and then slightly
soften the treble attack by degaussing the alnico 5 rod magnets. It cuts
through the mix much more easily than a traditional Strat bridge
pickup, while still retaining that classic Stratocaster tonal character.
Solos will jump out more musically, and chords will ring with the
perfect amount of midrange sparkle.
Hand built in our Custom Shop, each pickup is aged to look and sound
like a 1960s original. We use vintage correct blue/yellow cloth pushback
lead wire, light gray bottom flatwork, and custom aged covers for just
the right look. The Antiquity II Surfer vintage Strat pickups are all
lacquered and wax potted.