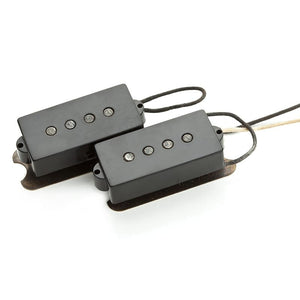 Seymour Duncan Antiquity Precision Bass Pickup 11044-11 Bass Electric Guitar Pickup *Free Shipping in the USA*
Summary
Vintage correct 57 P-Bass repro, complete with aged cover and brass bottom plate.
Description
A faithful
reproduction of Leo Fender's 1957 dual coil pickup design, the Antiquity
for P-Bass delivers that warm & woody tone, with a slightly softer
treble response. You will hear all of the familiar body and depth of a
P-Bass, but with the smooth mellowing of our custom aging process.Hand
made in our Custom Shop, the Antiquity for P-Bass uses hand-fabricated
forbon bobbins, plain enamel mag wire, hand ground sand-cast magnets,
brass bottom plate, and waxed cloth pushback wire. Each is lacquered and
potted in lamp black paraffin wax like the originals.