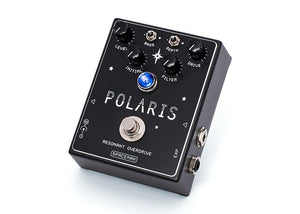 Spaceman Polaris Resonant Overdrive Black *In Stock & Shipping Now* Free Shipping in the USA
This pedal in In-Stock & shipping now! Free Shipping in the USA!

"POLARIS
shines on amazing medium-gain overdrive sounds with a broad set of
tonal controls that are masterfully interfaced. 4 out of 6 controls on
Polaris are focused on tonal response and Polaris features a versatile
filter section. The BASS control offers 3 low-end management settings
while DEPTH more broadly applies 3 distinct filter profiles which can
all be swept with expression. The unfiltered signal before the filter
section is always on tap in the mix using the INITIAL knob. Layering
these two signal paths together allows for some powerfully dynamic EQ
curves that have multiple tonal targets. We expect Spaceman fans will be
delighted with this wheelhouse favorite.