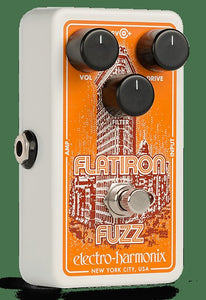 Electro-Harmonix Flat Iron Fuzz *Free Shipping in the USA*
From Electro Harmonix;

The new Flatiron Fuzz is a classic op-amp powered fuzz/distortion. With
its late '70s style circuit and symmetrical hard clipping, it's EHX's
take on the RAT2™ pedal, only we think it's better.



The Flatiron Fuzz is extremely versatile. At lower drive settings it
remains fairly clean and adds a pleasing mild distortion. As the drive
is turned up it transports you to a world of arena rock and produces
spectacular, thick, meaty tones.