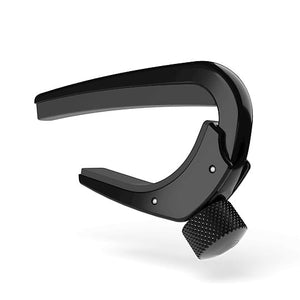 Planet Waves PW-CP-02 NS Guitar Capo
The D'Addario Pro Capo is made from aircraft-grade aluminum for use on
acoustic and electric 6- and 12-string guitars. The Pro Capo assures
buzz-free, in tune performance at any fret. The patented micrometer
adjustment mechanism allows the player to dial in the exact tension
needed for clear ringing notes without excessive force in any position
on the neck. This greatly reduces the need to retune your guitar during
and after capo use. The sleek construction can withstand the toughest
playing or touring schedule while adding very little additional weight
or obstruction to the instrument.